THE MESSAGE OF THE VIRGIN MARY TO THREE SHEPHERD CHILDREN IN 1917 POINTS TO GOD AS THE SOURCE OF PEACE IN THE WORLD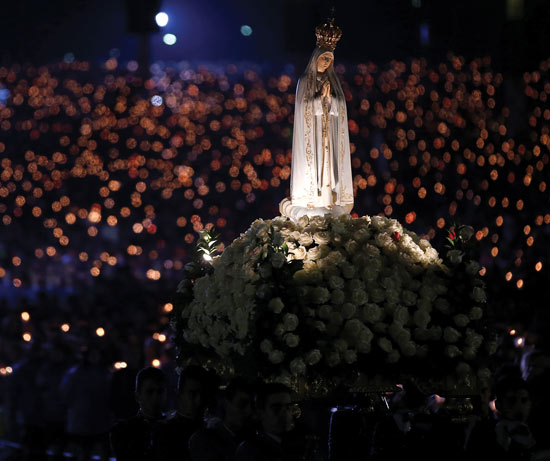 Between May and October 1917, the Blessed Virgin Mary appeared six times to three shepherd children in Fatima, Portugal. Francisco and Jacinta Marto and their cousin, Lucia dos Santos, received Mary's words with simple trust and faithfully put them into practice.
Our Lady's message was one of prayer, penance and conversion at a time of international crisis, as World War I intensified in Europe and the Bolshevik revolution in Russia loomed on the horizon.
During the deadly flu pandemic that began months later, young Francisco and Jacinta suffered immensely, and they showed great spiritual maturity and holiness despite their young age. Francisco died in 1919 at age 10, and Jacinta died a year later at age 9.
Lucia, who became a Sister of St. Dorothy and eventually received permission to join the Carmelites, wrote of the Fatima events in a series of memoirs and obediently shared what came to be called the "secret of Fatima."
Pope John Paul II beatified Francisco and Jacinta on the feast of Our Lady of Fatima, May 13, 2000. Sister Lucia died in 2005 at age 97, and three years later, Pope Benedict XVI waived the five-year waiting period for her cause for canonization.
In March 2017, Pope Francis formally recognized a second miracle attributed to the intercession of Blesseds Francisco and Jacinta, and to celebrate the centennial of the apparitions he will visit the Sanctuary of Our Lady of Fatima in Portugal May 12-13.
As summarized in the pages that follow, the story of Fatima, which unfolded over many decades, is a call to deeper prayer and conversion, and it is intertwined with the Church's experience throughout the tumultuous 20th century.
<CONTINUE READING FULL ARTICLE ON SUPREME COUNCIL SITE HERE>
---